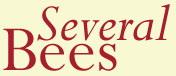 Autogenerated Costume Ideas For You!
Stumped for an easy-to-make Halloween costume idea? You should head off to party as a...
Gorgeous Demonic Mermaid
Pop both legs into one half of a pair of really big trousers, then add a tail made from an old power cable - then add rosy red cheeks (just rub paprika into your cheeks if you don't have facepaint)!
Click here for another