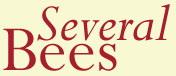 Autogenerated Costume Ideas For You!
Stumped for an easy-to-make Halloween costume idea? You should head off to party as a...
Scary Burlesque Doctor Who
To start, pop on a long scarf, a bow tie and a pair of trendy trainers. Now spraypaint a screwdriver silver, and add a corset made from an old pair of tights with the legs cut off - and wear your scariest grimace all night!
Click here for another